Air Quality Monitoring
Air quality experts have come to the understanding that ambient air quality particularly for health critical pollutants is clearly a topic of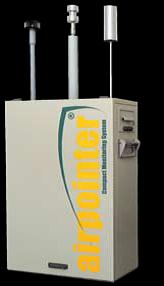 small-scale assessment.  Local microclimatic conditions regarding pollutant transport cross reactions etc. may create an air quality situation differing significantly from a more aggregate observation.
Adding short term pollution exposure risks as they have been proven in many epidemiological studies to the geographical small scale, makes it easy to see why a new generation of monitoring systems was needed: Portable, with minimum space and supply requirements, continuous high quality measurement using reference method sensors wherever possible.
recordum® develops and manufactures the most advanced solutions for applications in environmental monitoring and acts a a pioneer in a new generation of air quality monitoring systems.
The airpointer® is the world's first "out-of-the-box plug and play" compact multi gas air quality monitoring system and offers uniqe opportunities due to its very compact dimensions and its modular platform.
The airpointer® is type approved according to the European Norms for the gases O3, CO, SO2 and NO/NO2/NOX
TUEV_Certification
The airhopper is an innovative system to collect and control data from various air quality sensors. The key feature is the use of all modern Internet capabilities instead of conventional fixed or mobile telephone lines.
Features
The lowest operating cost resulting from a highly optimized energy management

low maintenance needs

only 10% of the space of a traditional monitoring station is required

reduces the need of on-site service through the remote service feature.

Access the monitoring and raw data without special software – standard internet connection and web browser will do

Airpointer_CE

Use of all modern Internet capabilities instead of conventional fixed or mobile telephone lines

The logger is easy to use and at the same time reliable in operation due to its powerful base

The operation is fully web oriented

Only the web browser of a computer, no other software is required.

With an Internet connection established, it makes no difference whether the logger is operated on site or several hundred miles away.

The heart of the system is a Linux based, embedded PC running a standard SQL database.

The PC is connected to the Internet.

All connectors are accessible from one side.
About PNF
Pooya Negar Fanavar Company "PNF" established in Tehran on the subject of Purchase, Sales and After Sales Services of Analytical Instruments, Ambient Air Pollution Monitoring Systems, Water Monitoring Systems, Environmental Testing Equipment and Import of related products... more