pH Meter
MARK® 903 Is a portable meter for m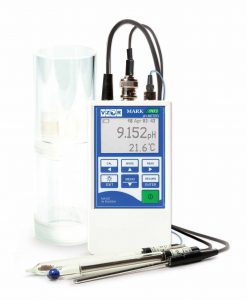 easuring of pH, mV and temperature of water and aqueous solutions.
IP65
Compact waterproof handheld meter allows use in dirty and wet environment.
Convenience and accuracy of measurement
Automatic temperature compensation.
Two-buffers calibration, buffer auto recognition.
Introspection system
Scratchpad
Non-volatile memory up to 500 data points.
USB port and related software
The ability to create and manage archive data on a PC.
Graphic LCD display with backlight
Easy input of all parameters by keypad.
Protective case for electrodes, for safe measuring, store and transportation
Low power consumption
Battery lifespan up to 600 hours of work.

About PNF
Pooya Negar Fanavar Company "PNF" established in Tehran on the subject of Purchase, Sales and After Sales Services of Analytical Instruments, Ambient Air Pollution Monitoring Systems, Water Monitoring Systems, Environmental Testing Equipment and Import of related products... more