Mobile Laboratory
Pooya Negar Fanavar Co. (PNF) proudly succeeded to procure and equip a Mobile Laboratory for Fuel Testing in 2011.
The Mobile Lab is the best solution for fast and precise quality tests and brings full power of traditional laboratories in to the field.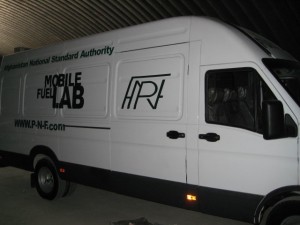 In this experiment a Van was selected with the following specifications:  2,5 diesel engine, 115 PS, ABS braking system, thermo glass, additional heating system and  air conditioning for driver's cabin.
The Wagon was especially designed to be operated as Mobile Fuel Lab:
rear compartment is operative with the engine running and without the engine running;
It was equipped with air suspension absorbing especial shock of the rear axis for instruments' protection;
All walls and the floor of the rear compartment covered with non-flammable materials; Floors are also anti-skid.
Ceiling equipped with a circulator which will circulate the air twenty (20) times per hour and a smoke detector with display in the driver's cabin;
On the lateral walls of the compartment there are several locker with transparent sliding doors designated for the spare parts and consumables.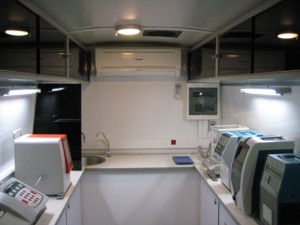 Specially designed lab desks and lockers provide optimal work space and storage of samples and other materials.
PNF team designed cabinet and boarding inside the cabin and installed all instruments on the boards.
All instruments are  State-of-the-art, robust and portable measurement systems;  According to the  application for fuel test this mobile laboratory configured to detect and confirm viscosity, Flash Point, Cloud Point,… with well-known brand instruments.
All instruments are mounted on especially designed shock and vibration absorbers to avoid any damage during driving.
The on board electric transformer supplies power to the instruments and devices from 2 sources: chargeable 12V batteries and external and internal 240V.
Containers for waste and fresh/distillate water supply are easily accessible through the back doors.
SPECIAL PARTS (Case depended)
1 pc. Working desk

10 pcs. Electric sockets

1 pc. Electric transformer

2 pcs. Fire extinguishers of 3 kg each with CO2 and special powder for flammable petroleum products

1 pc. Socket 220 V for recharging

1 pc. Power supply electric cord drum 50m length

1 pc. Washing sink

1 pc. Drinkable water tank 20l

1 pc. Distilled water tank 10l

1 pc. Waste recovery system

1 pc. Waste container

1 pc. Vessels dryer

Tools set

Flexible wiring for 110 or 230 volt

2.9kw diesel generator built in to exterior locker (case deepened)

Fuel resistant worktops (15mm standard – fuel resistant) and integrated cupboards

Sink with hot and cold taps

Hot Water System

Built in desk/workstation with space for printer and PC, fold up chairs
The Mobile Lab has the flexibility to be built and equipped according to application requirements:
The type of vehicle can be chosen, air-condition, ventilation system, auxiliary heating, sink with fresh and/or distilled water, vessel dryer, anti-skid flooring, fire extinguishers and certainly a large selection of on-board quality control instruments in the field of Fuel, Mining, Veterinary,… can be installed to comply with your individual needs.

About PNF
Pooya Negar Fanavar Company "PNF" established in Tehran on the subject of Purchase, Sales and After Sales Services of Analytical Instruments, Ambient Air Pollution Monitoring Systems, Water Monitoring Systems, Environmental Testing Equipment and Import of related products... more