Homogenizer
Homogenizer is a laboratory equipment used for the homogenization  of various types of material, such as tissue, plant, food, soil, and many others. Many different models have been developed using various physical technologies for disruption. The 'mortar and pestle', already used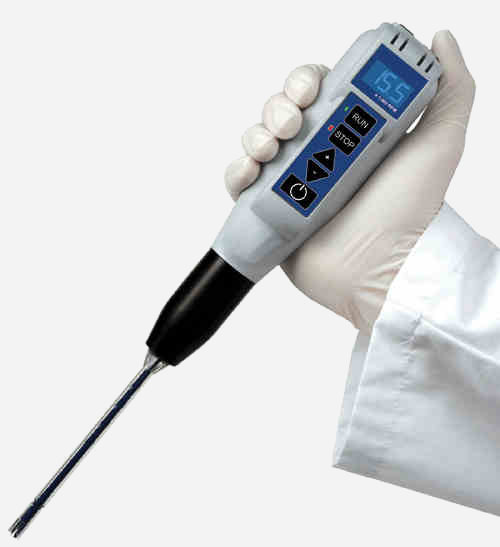 for thousands of years, is a standard tool even in modern laboratories. More modern solutions are based on blender  type of instruments, bead mills, ultra sonic  treatment, high pressure, and many other physical forces.
Laboratory Homogenization is a very common sample preparation step prior to the analysis of nucleic acids , proteins , cells, metabolism , pathogens , and many other targets.
Blade assemblies for mixing and rotor-stator generator probes for homogenization offer flexibility for blending, suspensions, dispersions, disintegrating, and emulsifications.
The speed ranges of this product at 500 to 20,000 rpm allow for gentle mixing or higher speed homogenization type applications.
A variety of stainless steel glass or plastic aerosol-safety sealed containers are available to be used with the Mixer Homogenizer.
Features
Sample volume processing from 0.25mL to 10L

Motor stand included

Processing speeds from 500 to 20,000 rpm

Powerful 600-Watt motor

Configures to a wide variety of processing attachments including generator probes, cutting blades, and sealed chamber assemblies

Quiet operation

3-year motor warranty
Applications
Soft and Hard Tissue Homogenization

Cellular Research

Biological Research

Food and Plant Analysis

DNA, RNA, PCR and Protein Extraction

Enzyme Studies

Cancer Research

Pharmaceutical Research

Animal Tissue

Medical Research

Neuroscience

Emulsions and Suspensions

Molecular Biology

And many more…
About PNF
Pooya Negar Fanavar Company "PNF" established in Tehran on the subject of Purchase, Sales and After Sales Services of Analytical Instruments, Ambient Air Pollution Monitoring Systems, Water Monitoring Systems, Environmental Testing Equipment and Import of related products... more