Genetic Analyzer
Genetic Analyzers are intended for use in the analysis of human DNA or RNA for the detection of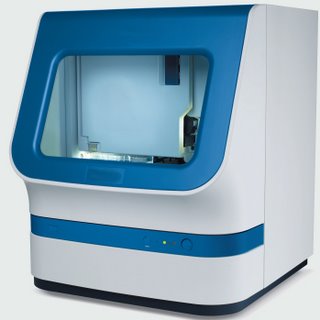 genetic changes that may lead to disease presence or susceptibility.
Genetic Analyzer is an automated single-capillary genetic analyzer designed and optimized to support a wide range of sequencing and fragment analysis applications. From de novo sequencing to SNP validation to linkage mapping, the versatile can support most gel-based assays.
This system offers flexibility to perform a variety of applications such as comparative sequencing, linkage analysis, SNP discovery and validation, and mutation detection.
Features
New Optical and Thermal Sub-systems

Redesigned Data Collection and Analysis Software

Creating a more Cost-Effective method for high-quality data analyses

Providing an integrated solution that combines the instrument with reagents, consumables, software, and world class service and support

Extensive Technical Reagent

Effective Time Management

Advanced Thermal System Design improves Temperature Control for demanding DNA fragment analysis applications

Single-line 505 nm, Solid-State Long-Life Laser—utilizes a standard power supply; requires no heat removal

Significantly Improved Signal Uniformity from instrument to instrument, run to run, and capillary to capillary

Radio Frequency Identification (RFID) Technology tracks key consumables data and records administrative information

Advanced Multiplexing Capabilities for DNA Fragment Analysis with up to six unique dyes

Unrivaled Application Flexibility—one array and one polymer are used for most applications

Simple Setup, Operation and Maintenance—the easiest-to-run, easiest-to-own DNA sequencer to date
About PNF
Pooya Negar Fanavar Company "PNF" established in Tehran on the subject of Purchase, Sales and After Sales Services of Analytical Instruments, Ambient Air Pollution Monitoring Systems, Water Monitoring Systems, Environmental Testing Equipment and Import of related products... more