Doppler Ultrasonic Flow Meter
With the Time of Flight Ultrasonic Flow meter the time for the sound to travel between a transmitter and a receiver is measured.  This method is not dependable on the particles in the fluid.  Two transmitters / receivers (transceivers) are located on each side of the pipe.  The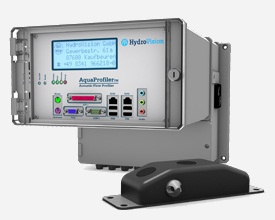 transmitters send pulsating ultrasonic waves in a predefined frequency from one side to the other.  The difference in frequency is proportional to the average fluid velocity.
For sewage –treatment plants Flow measurements are primarily installed for internal reasons, for example to control specific plant component with flow dependency or for controlling additives.
In the field of Wastewater Monitoring, there are many possibilities for use of portable or stationary Discharge Measurement Systems starting with the monitoring of influent sewage water to sewer infiltration/inflow ,capacity of sewer pipes .measurements for sewer network calculations ,discharge measurements for assessment of overflows ,…
In these situations, the advantage of almost contact free Ultrasonic Measurement is obvious ,with our hydrodynamic sensors, dirt particles and ragging do not occur, on the contrary these particles lead to a very good signal quality when it comes to using the pulse Doppler principle.
Features
Sensor: 1 x velocity 1 x water level (optional)

Frequency: 1 MHz

Number of Cells: Q-Eye PSC: mean value

Q-Eye PSC PRO: max. 22 cells

Range : Velocity ± 5,3 m/s

Water Level (ultrasonic) 0,04 -1,3 m expandable via external 4-20 mA sensor

Accuracy:± 1% of measured value for v and h (ultrasonic)± 2% for discharge

Cable Length: Max. 80 m

Display: 4 lines, 20 characters

Keyboard:5 keys

Data Logger :Compact Flash Card up to 2GB

Communication:RS-232, MODBUS

Inputs: Max. 8 x 4-20 mA

Outputs: Max. 4 x 4-20 mA

2 x Relay, 2 x Pulse

Power Supply:100-240 VAC (47-63 Hz) or 12 VDC

Approval: ATEX (option)

Enclosure: Aluminum, wall mounted
About PNF
Pooya Negar Fanavar Company "PNF" established in Tehran on the subject of Purchase, Sales and After Sales Services of Analytical Instruments, Ambient Air Pollution Monitoring Systems, Water Monitoring Systems, Environmental Testing Equipment and Import of related products... more
Our Partners